Biography Of George Washington 
As a gallant and plucky soldier during the revolutionary war, George Washington worked his way up and earned his position of becoming the first-ever president of the United States.
Early Life
George Washington was born on February 22nd, 1732, in the Westmoreland County of Virginia. He was the oldest of his nine siblings, and his family's affluence made it possible for him to be home-schooled. At 18, George Washington joined the Virginia Militia in 1752 to mark the land boundaries of the colony of Virginia. He was applauded for his courage throughout the war and was admired by both senior and junior-ranked officers.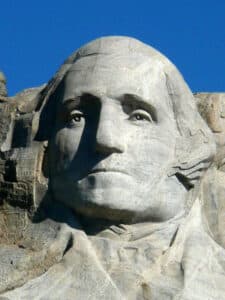 At age 20, George Washington inherited his family's wealth, including hundreds of slaves. He returned home to focus on farming and married his wealthy wife, Martha Custis, who was a widow.
Impact During The Revolutionary War
He was nominated to Virginia's House of Burgesses, where he began to oppose some of the British's unfair practices, such as "taxation without representation." This led to him supporting the revolution for independence, and he was assigned to represent Virginia in the first and second Continental Congress.
His impressive military background landed him the position as Commander in Chief of the Continental Army, of which he led all colonial forces to strive for America's independence. His strategic ingenuity in warfare combined with his relentless courage led to the colonial army allying with the French army to defeat the extensive British Army on October 19, 1781.
Political Career
His victory against the British made him an admirable figure for political theorists, generals, and politicians. It enhanced people's trust in the fate of the nation in his hands, and in 1787, he was elected as the first-ever president of the Constitutional Convention. He was looked up to by prominent figures such as John Adams, James Madison, Benjamin Franklin, etc. He used the influence he had to persuade for ratification of the new constitution through his letters.
His ratification of the new constitution led to the formation of the United States of America. Washington was elected to become the first president of the United States of America. As president, he was an embodiment of courage, integrity, and brilliance, which led to his re-election for a second term of presidency, even though he wanted to retire after his first term.