When was Barack Obama born?
Barack Obama was born in 1961.
Where was Barack Obama born?
Barack Obama was born in Honolulu, Hawaii.
How old was Barack Obama when he became president?
Barack Obama became president at the age of 47.
What years was Barack Obama president?
Barack Obama was president from 2009 – 2017.
Barack Obama was the 44th president of the US. Through the Democratic Party, he served the country for two terms ranging between 2009 and 2017. Barack Obama made history as the first African-American to be elected for presidency in the US. He also made history by serving as the first black president.
Was Obama the youngest president?
Contrary to popular belief, Obama was not the youngest president of the US. Roosevelt, Kennedy, Clinton, and Grant were all younger than Obama when they became president.
Barack Obama's Family
Barack Obama was born in Honolulu to Barack Obama and Stanley Ann Dunham on August 4, 1961. He spent his early childhood in Honolulu while his mother attended University in Hawaii. He has a sister, Maya Soetoro-Ng.
Education of Barack Obama
Obama went to a private school called Punahou School. He was able to afford a private school as he earned a scholarship.
Obama joined the Los Angeles-based Occidental College in 1979. After 2 years, he transferred and joined Columbia University in New York. He graduated in 1983 and got a degree in political science.
After Columbia, Obama went to Harvard Law School. In 1990, he got elected as the editor of the Harvard Law Review, becoming the first African American to hold such as position in Harvard.
In 1991, Obama graduated magna cum laude from Harvard Law School and returned to live in Chicago.
Obama and Michelle Meet and get Married
Before he graduated from Harvard, he had worked in the business sector for around two years. It was while he was at Harvard that he decided to join Sidley Austin, a Chicago law firm, as a summer associate. This is where he met Michelle Robinson, his future wife.
Obama and Michelle began dating while they were at Sidley Austin where they were practicing young lawyers. At the time, Michelle was 25 and Barack was 27.
The couple got married in October 1992. Barack was 31 and Michell Obama was 28.
They then moved to Chicago's south side, Kenwood. They welcomed their first daughter Malia in 1998 and their second daughter, Sasha in 2001.
Real Life after Law School
After his studies, Barack Obama went back to Chicago and he practiced law as a civil rights lawyer.
Obama never practiced as a constitutional lawyer, but between 1992 and 2004, he taught part-time constitutional law at the University of Chicago Law School. He started as a lecturer before he became a professor.
There has been controversial doubts whether Obama was a constitutional law professor at University of Chicago.
This is a statement that they released:
The Law School has received many media requests about Barack Obama, especially about his status as "Senior Lecturer." From 1992 until his election to the U.S. Senate in 2004, Barack Obama served as a professor in the Law School. He was a Lecturer from 1992 to 1996. He was a Senior Lecturer from 1996 to 2004, during which time he taught three courses per year. Senior Lecturers are considered to be members of the Law School faculty and are regarded as professors, although not full-time or tenure-track. The title of Senior Lecturer is distinct from the title of Lecturer, which signifies adjunct status. Like Obama, each of the Law School's Senior Lecturers have high-demand careers in politics or public service, which prevent full-time teaching. Several times during his 12 years as a professor in the Law School, Obama was invited to join the faculty in a full-time tenure-track position, but he declined.
During this period, he was at the forefront of organizing voter registration drives for Bill Clinton.
Ascent to Presidency
Barack Obama's ascent to presidency started with a journey in Illinois' senate in 1996. He helped to pass the legislation that helped to tighten regulations for campaign finance. He also helped to expand healthcare services to poor families in addition to reforming welfare and criminal justice law.
He vied for Illinois' senatorship and defeated Alan Keyes in 2004. It's worth noting that this was the first senate race in the US where the leading candidates were African Americans.
It's during the senatorial campaigns that he gained national recognition while he was delivering the Democratic National Convection's keynote address. Although his speech was infused with a personal narrative of his biography, it had a theme that most Americans connected with and in some way, this was his transcend to national leadership.
The address quickly made his memoir popular and it catapulted to the top of the best-seller's list. During his tenure as a senator, Barack Obama quickly became a major and favorite figure in the Democratic Party.
His star even shone brighter with the publishing of Audacity of Hope in 2006, his second book. It went to become a best-seller and in 2007, when he announced his Democratic presidential bid.
Presidential Campaign and Win
His oratory capabilities stirred a lot of people and it played a crucial role in accelerating his popularity. Besides that, Obama's personal charisma resonated with what many democrats and Americans believed in, especially the minorities and young voters.
During the nomination contest against Hillary Clinton, Obama won and quickly became the public's favorite to win the presidential elections. In August 2008, he became the first African America to get nominated by a major presidential party.
His presidential race saw him run against Senator John McCain. McCain had criticized Obama's lack of experience in the top office's job and to counter his critics, Obama picked Joe Biden, an experienced and veteran politician who was a senator in Delaware. This led to a fiery contest but he eventually won by almost 53% of the popular vote in addition to 365 electoral votes.
First Presidential Inauguration and Second-Term
Barack Obama took the presidential oath on January 20, 2009, in Washington D.C. In the 2012 presidential elections, Obama ran against the Republican Mitt Romney and he won by 332 electoral votes
Key Highlights of Barack Obama's tenure as the President of the United States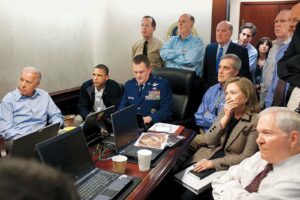 There are many defining moments that cover different points of Barack Obama's two presidential terms. They include:
Ending the 2008 Recession
Barack Obama started his first term as the president of the United States when the country was experiencing the Great Recession. In February 2009, his economic stimulus package was approved and at the time it had an estimated cost of $787 billion.
To end the 2008 recession, this stimulus package was meant to extend unemployment benefits and cut down taxes. Besides that, the money was used to fund public works projects. The implementation of all these regulations led to the positive growth of GDP and ended the recession by June 2009. It's estimated that during the first quarter of 2010, America's GDP growth was at 3.7%.
Health Care Reforms
Americans had been struggling for a long time, especially those with low incomes, and without healthcare insurance. The available options were quite expensive and they also shut out people with pre-existing medical conditions.
The implementation of the Affordable Care Act in 2010 revolutionized healthcare in America. It led to the creation of a program where people with low income and pre-existing medical conditions could assess good insurance services. By the end of 2014 alone, almost 88% of the population had some form of healthcare insurance.
In the end, the cost of health care was reduced for everyone including emergency room visits. This is because a greater number of people were able to receive preventive care.
The 2010 Tax Cuts
Both Congress and Obama agreed upon an extra stimulus plan in December 2010. The additional stimulus had a total of $858 billion set for tax cuts. It featured three components:
A 2% reduction of payroll taxes subjected to workers.
Extending tax cuts that had been previously implemented by Bush's administration
$56 billion to cater to unemployment benefits.
Note: businesses were able to get tax cuts for the development of tax credits, research, and capital improvements.
The Iran Nuclear Agreement
This is one of his notable achievements. Obama was able to broker a nuclear peace agreement in July 2015 with Iran. It's formally known as the Joint Comprehensive Plan of Action. Under this agreement, Iran was required to only have enough amount of uranium to cater to its need but the amount shouldn't be sufficient enough to build a bomb. In return, the UN lifted the economic sanctions that it had imposed on Iran due to its nuclear program.
International Climate Change Agreement
This was also implemented in 2015. Obama bought together more than 190 countries under the international climate change agreement. The countries that signed the Paris Climate Agreement agreed to increase carbon trading and reduce carbon emissions.
The goal of this agreement was to limit the rate of global warming to 2 degrees celsius. Besides that, developed countries were to contribute $100 billion annually to assist various emerging markets. By the end of 2016, there were enough countries that had ratified the agreement and so it went into effect.
Reduced Carbon Emissions
Obama's administration had a major interest in climate change and global warming. In 2015, he announced new carbon reduction regulations by enacting the Clean Power Plan. By 2030, the level of reduced carbon dioxide emissions is expected to be reduced by 32%.
The enactment of this plan involved setting carbon reduction that national power plants produce. Under this plan, the power plants agreed to create more renewable energy.
Raised the Fuel Efficiency Standards
The fuel efficiency standards were enacted in 2012 and it required light trucks and cars to attain 54.5 MPG by the end of 2025. This would save drivers around $1.7 trillion and reduce the amount of oil consumption by almost 12 billion barrels.
The Economy under President Barack Obama
When President Obama was inaugurated in 2009, the US was in deep depths of the financial crisis of the Great Recession.
However, his government started a bailout to rescue the effects of the previous administration. This involved a stimulus program involving $800 billion and it was termed The American Recovery and Reinvestment Act of 2009. (ARRA).
The economic policy under his administration featured a moderate tax increase on Americans earning a higher income. This was designed to cater to the federal budget deficit and the healthcare reform. Besides that, the moderate tax increase was supposed to help reduce income tax inequality.
Middle-Class Income
The Great Recession significantly affected middle-class individuals. In fact, their income remained lower compared to the late 1990s. The level of income only matched what was earned in 1999 during Obama's final two years. President Obama definitely contributed to its recovery.
The US Stock Market
During the first few days of his presidency, the stock market had fallen. However, they quickly regained momentum and increased a few weeks into his first term. Generally, Obama had good stock market margins.
Trends in Employment
The great recession led to over 8.7 million job losses in the private sector. Between 2007 and 2009, the crisis deepened with the rate of unemployment reaching 10% during that period. The number of those employed on part-time, however, increased during that period. This was aimed to cater to the increasing jobless labor force.
But even during the job crises, Obama's administration added over 11.6 million jobs in the private sector between 2009 and 2017. But critics were still on his administration's neck citing that there were more part-time jobs than full-time employment.
Overall, economic data indicates that the manufacturing sector experienced its own mini-recession since the blue-collar workers were deeply affected. The service industry's economy tried to tug along.
The Automobile Industry Support
Obama's administration intervened in the automotive industry by trying to renew the loans for Chrysler and General Motors in order for them to continue with their operations. The investment in the automobile industry was accelerated by the end of 2013, the government had re-privatized its investments in General Motors and Chrysler. $80 billion was invested in this industry by the end of 2016, taxpayers had recovered around $71 billion.
Healthcare Reform
It was named Obamacare and it involved three main concepts:
Guaranteed issue & community rating i.e. people with pre-existing medical issues couldn't be discriminated against
Putting subsidies on persons with low income to ensure that they can purchase health insurance
Healthy people (those who have fewer medical bills) should participate in order to help keep the general costs of health insurance down for everyone
Different key variables point to moderate success. It should be noted that Obama took over the reins of leadership when the country was in deep economic problems. Besides, there were deep divisions among Americans in terms of employment and race.
Partisanship and Nobel Peace Prize
The US experienced deep division that is said to be enhanced by Obama's predecessors. In an effort to turn around and improve the US's global profile, Obama took a series of steps that he believed would help to reduce the divisive tone.
For instance, he went ahead and signed the executive order that banned the use of extensive interrogation techniques. In addition to that, he also banned the controversial Guantanamo Bay detention facility.
In an attempt to foster relationships between different religions and the controversy that came with his name "Hussein" Obama traveled to Cairo in June 2019 and delivered an iconic speech as he tried to reach and foster relationships with the Muslim world.
America has always had a strained relationship with Russia and Obama tried to restart a fresh relationship. Due to his efforts to cool down rising global tensions and foster a united front, Obama was awarded the Nobel Peace Prize in 2009. But his increasing popularity, as well as his administration's handling of the war in the Middle East, was met with criticism. The rate of economic recovery was also slow and he faced significant opposition, especially when it came to health care reforms.