Number President:
President Harding was the 29th President of the United States.
Political Party:
Republican.
When was Warren G. Harding born?
Warren G. Harding was born on November 2nd, 1965.
Where was Warren G. Harding born?
Warren G. Harding was born in Blooming Grove, Ohio.
How old was Warren G. Harding when he became president?
Warren G. Harding was elected at the age of 56.
What years was Warren G. Harding president?
Warren G. Harding was president in 1921-1923.
When did Warren G. Harding die?
Warren G. Harding died at the age of 57 in August 2nd, 1923.
How did Warren G. Harding die?
He died from a heart attack. 
Family, Education, Early Career of Warren G. Harding
Born just after the Civil War's conclusion in November 1865, Warren G. Harding entered the world during a difficult recovery and unrest in the United States.
Harding grew up in the village of Caledonia, the son of two doctors, Mr. George, and Phoebe Harding. Warren reflected positively on his childhood when looking back later in life. Harding loved his upbringing, which was filled with swimming at the local creek, playing in the village band, and doing farm chores.
Warren G. Harding grew up with five younger siblings (four sisters and a brother). They all attended a one-room school where they learned to read and write. At 14, Warren entered Ohio Central College, which he graduated from in 1882. He spent time editing the school's newspaper during his college days.
Early Career
Following college, Harding taught school in rural Ohio for one year. The following year, he tried various jobs, including insurance sales, law, and even journalism.
Eventually, Harding purchased the Marion Star Newspaper with a couple of friends, which achieved moderate success during its first five years.
In 1891 at the age of 25, Warren married a wealthy widow called Florence Mabel Kling Dewolf, or Flossie for short. Flossie pursued Warren relentlessly, and he finally gave in to the older woman's demands. Harding also became the stepfather to Flossie's ten-year-old son.
For the next decade, the Star flourished and became the favorite paper of many Ohio politicians of both parties due to the paper's evenhanded and unbiased reporting. Warren G. Harding was also beloved by his employees as he shared the company's profits with them, and it is said that he never fired an employee.
Entering Politics
Harding began his political career by becoming a member of the Ohio state senate, for which he served two terms and was for a time the majority leader.
Warren won his bid for the lieutenant governorship in Ohio during the 1903 election. However, after serving for two years, he decided to return to the publishing business and leave politics behind for a brief time.
He returned to politics in 1910 when he lost in his bid for the governorship of Ohio. With his popularity within his Republican party, he even received a special honor at the party's 1912 convention. In 1914 Harding won a United States Senate seat after defeating the state's catholic attorney general, Timothy Hogan.
It was reported that Harding's proponents attacked Hogan's Catholicism, which blemished Harding's victory and political career. Harding made very few enemies as a senator and many friends during his career. He was known as someone who towed the party line, and he missed more senate sessions than he attended.
At the 1916 Republican convention, Harding was a keynote speaker and served as chairman of the entire event held in Chicago.
Run for the Presidency
Warren G. Harding was not expected to make any serious noise at the 1920 Republican convention held in Chicago. Harding's name was missing from a group of front runners expected to run away with the election, but his affable nature and many connections still boded well.
Harding's positive attributes included his stance on important issues, such as the fact that he was from a crucial battleground state and his lack of political enemies.
On an interesting side note, this was the first election in which women could vote and Harding's good "presidential" looks promised to help his popularity among women. After going through ten ballots without selecting a nominee, Warren G. Harding accepted the nomination given to him by party leaders.
Massachusetts Governor and future President Calvin Coolidge were named his vice-presidential nominee. The pair ran on a platform opposing the proceeding president, Woodrow Wilson's decisions regarding World War 1 and the creation of the League of Nations.
Harding and Coolidge also supported a higher tariff and stricter immigration requirements and policies. They harkened to take the nation back to the "good ole days" of the pre-Democrat lead reform era, essentially before 1890.
On the campaign trail, Harding repeatedly used the phrase "return to normalcy" when suggesting what the nation needed after the hardships of WW1.
Harding also had Al Jolson, the famous entertainer, endorse him during his act. Jolson frequently compared Harding to former Republican President Abraham Lincoln.
Harding stomped Democratic candidate James M. Cox by over seven million votes in the election. Additionally, Harding won an astonishing 404 electoral college votes, carrying 37 states.
Family Life in the White House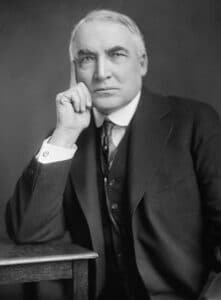 Warren Harding remained childless for the entirety of his life though he did act as a stepfather to Florence Harding's son by her previous marriage.
According to the University of Virginia's Miller Center, the couple's social affairs consisted of elegant garden parties and the state's traditional affairs.
For close personal friends, the Harding's entertained upstairs in the White House with ample liquor supplies despite the current banning of the beverage under prohibition.
For Warren G. Harding himself, social life revolved around poker games with his cronies AKA the "Ohio Gang," playing golf at Chevy Chase Country Club, and yearning back to his younger days in Ohio, fishing and yachting. Interestingly, Harding was the first president to have a radio in the White House and broadcast a message via the medium.
Presidency
The man who saw the presidential job as primarily ceremonial was now in the role himself. So starting, President Harding made several wise choices for his cabinet appointments.
Charles Evans Hughes was a terrific choice as Secretary of State. Though highly partisan, the wealthy financier Andrew Mellon proved to be a powerful and effective Secretary of the Treasury.
Future president Herbert Hoover was named head of the Department of Commerce. During his tenure, he transformed the agency into an "efficient and effective support agency for U.S. business at home and abroad."
Unfortunately, alongside these talented men, another group from Ohio was corrupt and received their appointments out of Harding's nepotism.
Many of the "Ohio gang" were Harding's drinking and poker buddies. It is widely reported that Harding once gambled away the entire White House china set during a particularly unlucky game for the President.
Among the "Ohio gang" was Harry Daughtery, Harding's close friend and former political manager who was named Attorney General. He was among the most corrupt members of his administration.
Albert Fall, the interior secretary, allowed private oil companies to tap oil reserves for $300,000 in bribes.
Charles Forbes, named Director of the Veterans Bureau, would divert alcohol and drugs from Veterans hospitals to criminal bootleggers and drug dealers, taking payoffs or portions of their profits. In return, he also received bribes from contractors building the hospitals.
Harding was what one might call a push-over for his friends. He could not tell them no, which led to a lot of corruption during his administration.
Domestic Affairs
Harding helped the government improve its efficiency by signing a revised version of the Budget and Accounting Act. This enabled creating a unified budget for the first time and created the General Accounting Office, which audits government expenditures.
Harding was also well regarded for his efforts to help farmers. He passed regulations, making it easier for farmers to get credit and bills that assisted farm co-ops.
Harding was tolerant and promoted civil liberties, unlike his predecessor Woodrow Wilson, often honestly criticizing African Americans' unfair and biased treatment, including a notable speech in front of a segregated crowd in Alabama.
Immigration
In sharp contrast with his approach to current citizens of the United States, Harding helped pass a strict immigration quota- the Johnson Immigrant Quota Act of 1921, which was the first in a series of anti-immigrant steps in the 1920s after the lax policies of the 1900s and 10's.
The Johnson Act, in essence, made it more difficult for people of southern and eastern Europe to immigrate to the United States instead favoring northern and western Europeans. It was passed partly because southern and eastern European immigrants tended to vote for the Democratic party upon arrival in the United States.
Pro Business Stance
On most issues, Harding was staunchly conservative to the benefit of many U.S. businesses and tycoons. He supported his secretary of the treasury's efforts to push tax cuts for the wealthy and large corporations.
One of Harding's most important pro-business legacies was encouraging the Justice Department, Federal Trade Commission, and the Interstate Commerce Commission to work with rather than against corporations, creating a much friendlier environment for businesses in the United States.
However, Harding suffered from economic woes during an approximately one year (1920-1921) period known as the "silent depression." During this economic depression caused by a significant deflation, throughout the depression, over 20,000 businesses shuttered, and wages decreased dramatically.
Foreign Affairs
Harding allowed his Secretary of State Charles Evans Hughes to have a free hand in crafting foreign policy. As a result, the Harding administration's foreign policy centered around trade and is a significant component of the world economy while remaining unconstrained in international relations.
Under Harding, the U.S. expanded its business options and resources overseas. Herbert Hoover secured concessions for rubber in Malaysia and oil in the middle east- Iraq, and Iran. A consortium of private U.S.-based oil companies effectively opened the door for the U.S. "investment" in oil in the Middle East.
In Europe, a bungled effort to interject life into the European economy while recouping loans made to European powers during the First World War resulted in a circular capital flow. As a result, the United States only received a sliver of European countries' original debt, around $22 Billion.
Washington Disarmament Conference
The Washington Disarmament Conference of 1921 reduced the size of various countries' navies, including- the United States, United Kingdom, France, Germany, and Japan. Moreover, an additional treaty emerged out of the conference that resulted in a nine-member treaty in which all the signature signing nations agreed to guarantee the territorial integrity of China, including an "open door" policy regarding trade and investment in the nation.
Warren G. Harding's Death
Warren G. Harding died suddenly in 1923 while on a tour of the West with his wife, Mrs. Harding. The trip started well with President Harding especially enjoying his visit to Alaska.
After getting ill on his train journey, Harding was rushed to San Francisco. But on the night of August 2nd, as Florence read to him in the San Francisco hospital, Harding suffered a heart attack and died instantly, making Vice President Calvin Coolidge president.
Extramarital Affairs
Following Harding's death, news of two of Harding's extramarital affairs came out, one via a book by his mistress Nan Britton in 1927 and the other in 1963 when Warren's love letters to his other mistress Carrie Phillips were uncovered.
Affair with Mrs. Phillips
His affair with Mrs. Phillips, the wife of his good friend James, began back in Marion in 1905. While he was a senator, Phillips attempted to blackmail Harding into sympathizing with Germany in World War 1 due to personal feelings and living in Berlin.
In turn, the Republican party itself bribed Mr. and Mrs. Phillips to stay quiet with $20,000 in cash, a free luxurious trip to Japan, and the promise of monthly payments in return for silence.
Affair with Britton
Harding's affair with Britton, who was 30 years younger than him, began in 1917 after Harding got her a position working for U.S. Steel in Washington D.C.
The affair continued until Harding's death, and it is reported that the two often had their encounters inside the White House. Nan eventually had a child with Harding that he never met, although he did make generous child-support payments via the Secret Service.
Legacy
Many historians have mixed opinions and views regarding Warren G. Harding. Some historians cite him as one of the worst presidents of all time, while others applaud the job he did bridging the gap between Wilson's idealism and the business forward-thinking of Coolidge and Hoover.
Ultimately, President Harding himself suffered from a lack of vision and was helped tremendously by several smart cabinet appointees. But, at the same time, the corruption of his more nepotistic appointments significantly damaged his reputation in the American history books.