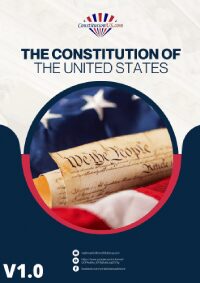 There is no need to pay for a pocket constitution book. As you are a fan and supporter of ConstitutionUS.com, we will send you one for free.
We even pay your shipping cost!
Just fill in the form below with your details and we will send it out to anywhere in the world.
Please note, that there is a maximum of 2 per household.
ConstitutionUS.com Pocket Constitution
The Special Edition pocket constitution contains:
Full original US constitution
Bill of Rights
27 Amendments
A specially written summary of every part of the constitution.
What else do you need to know about the free constitution book?
Totally free – we don't even charge postage
Full color with original illustrations
Over 80 high quality printed pages
Comfortably fits in any pocket or bag
Please note, that we have a strictly limited availability of 2,000 copies. So, if you want to be one of the first to receive your free pocket constitution, please fill in the form below.