Click here to download your free copy of the 27 Amendments of the US Constitution.
The 27 Amendments to the US Constitution have been used to make changes to the original constitution. The first 10 amendments are known as the Bill of Rights and were ratified together.
There is a hard process of passing a constitutional amendment, which is why although there have been thousands of attempts, we only have 27 amendments.
Why Another United States Constitutional Amendments PDF?
This PDF version of the 27 Amendments has been prepared by constitutionus.com using a revised version of the constitution and its amendments.
The PDF also includes the Bill of Rights which can be downloaded with the constitution. It also includes the other United States Constitutional Amendments
We wanted to make this PDF as accessible as possible and have therefore refrained from commentary or other explanations. If you require such, you can find information on the US Constitution and its amendments at https://constitutionus.com.
Copyright of this 27 Amendments PDF
You are free to share this Amendments PDF, although you are always advised to download it from this website for the latest version.
In order to download this 27 Amendments PDF, either download the PDF here or click on the PDF cover below.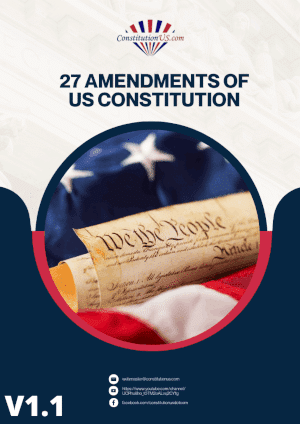 This PDF is Printable
Once the PDF is downloaded, feel free to print it or create a free pocket version of the constitution.
How do I download the 27 Amendments PDF to my computer?
Once it is downloaded, you may be able to open it by just double-clicking the file name. It will give you a choice of which program to open it with.
If that, doesn't work then you should download Adobe PDF Reader for free from here.
Once the program is installed, then once again try and double click on the 27 Amendments PDF which should now open successfully.