Federal holidays are eagerly anticipated days of the year for those who get time off. Those that don't can still find ways to celebrate the occasions in their own way. But what are the federal holidays?
Federal Holidays Explained
There is a difference between a state holiday and a federal holiday. Federal holidays are where citizens get the day off across all states if they work in government buildings. This often extends to bank employees, and other private businesses may choose to close and honor the day.
State holidays are those only recognized within a specific state. These could be the anniversary of an event in the region or the birth of a historical figure not seen as significant enough for a national celebration. Citizens may celebrate a range of local events but only observe 11 federal holidays. 
There Are Now 11 Federal Holidays in the United States
There were 10 federal holidays spread out across the year and a host of state celebrations until recently. A fact still reflected in a lot of literature yet to be updated. In 2021, Juneteenth was added to the list, upgrading its status from a state holiday in Texas to a broader national celebration. 
What are these 11 federal holidays?
1) New Year's Day. 
New Year's Day is important as a day of rest and recovery from the night before. Some will spend the day with family and friends, while others will take the time to sleep in after a late night. The main celebrations are at midnight with countdowns and fireworks to bring in the new year.
2) Martin Luther King, Jr. Day.
This federal holiday is the only one that celebrates a single person in every state during the year. It shows how important Martin Luther King, Jr. was to the Civil Rights Movement and black history. Black History Month was later conceived as a month for celebration and education.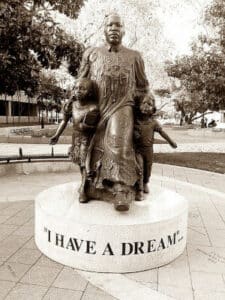 3) Presidents' Day.
This holiday used to be about a single person but was later altered to become President's Day. There were holidays for George Washington and Abraham Lincoln's birthdays. But they were so close together, and dates continually moved so that the holiday could fall on a Monday. A dedicated President's Day makes things a little easier. 
4) Memorial Day.
Memorial Day is an opportunity for people to remember those that have fallen in combat while defending the United States. The holiday began life as a way to remember those that fought in the Civil War, bringing the nation together in remembrance. It now deals with all conflicts, including the World Wars.
5) Juneteenth.
A relatively new addition to the list highlights the emancipation of slaves in the United States. It had been a state holiday in Texas for a long time and was observed in other areas. It is also believed that many African-American communities honored it from 1866. Now, there is an official Juneteenth federal holiday.
6) Independence Day.
The Fourth of July is another day of widespread celebration that rivals New Year for its extravagance. People enjoy Independence Day parades and other public events, and fly the American flag in honor of the day that the nation adopted the Declaration of Independence.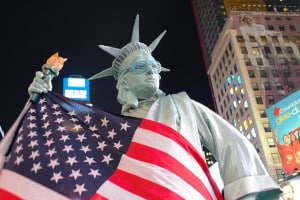 7) Labor Day. 
Labor Day is the annual celebration of the efforts and achievements of the American workforce. It honors the contributions of those that work hard to help America achieve its goals. So, it makes sense for this to be a national holiday. 
8) Columbus Day.
Columbus Day is the official name for this federal holiday. However, many will know it better now as Indigenous People's Day, or a similar term. That is because there has been a backlash against the promotion of Columbus and a stronger drive to celebrate first nation individuals instead.
9) Veterans Day.
Veterans Day is easily confused with Memorial Day because of its links with war. What's more, it falls on Armistice Day, which is a day dedicated to the remembrance of the fallen from World War 2. Veterans Day gives us the chance to honor those that have fought and are still with us, such as those involved in more recent conflicts like Afghanistan.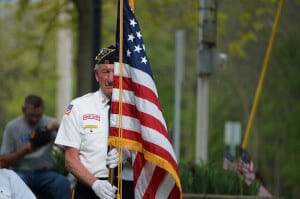 10) Thanksgiving.
Thanksgiving is one of the most popular celebrations at the end of the year and a time when people travel the length and breadth of the country to visit loved ones. Many celebrations center around large turkey dinners and football games. The recent creations of Black Friday and Cyber Monday enhance the commercial side of the long weekend.
11) Christmas.
Finally, there is Christmas Day. Federal employees are given this day off to celebrate as they choose. Some will see this as a religious holiday, while others take a more secular approach. Either way, there is lots of fun, food, and gift-giving galore.
Why Isn't the List Longer?
11 may not sound like a lot at first, but it does equate to almost one per month. There will always be arguments in favor of additional days being added to the list. There are days of national celebration, such as Mother's Day and Father's Day, that don't allow for automatic time off. Also, there is nothing for any additional religious holidays.
The problem here is that some occasions don't have a fixed date, such as Easter. Additionally, there has to be a limit to the number of times government buildings can close each month. Still, some other holidays are under consideration, such as Election Day every four years. 
What Happens if One of These Days Falls on a Sunday?
The main aim of these federal days is to give people extra time off to spend with their families or where they can simply rest and celebrate the occasion. The holidays with fixed dates can fall on a Sunday, which should be a day off for most federal employees anyway. In these cases, there is a long weekend where there is a day in lieu.
In short, there are plenty of national holidays that we can celebrate together and make the most of while also making time for state events and more personal occasions. The dates may shift now and then, but the traditions are the same.