President Donald Trump was impeached twice and remains the only person in the history of the American government to be impeached twice.
When was Trump impeached?
He was first impeached in December 2019 for obstruction of justice and for a second time in January 2021 for inciting an insurrection on the United States Capitol. He was acquitted on both occasions.
How Does Impeachment Work?
Examining how President Trump was impeached twice helps to understand the impeachment process and why a person who has been impeached can also remain in office. Here's a look at how the impeachment proceedings work according to Article I of the Constitution:
An investigation is held to review illegal behavior. The Constitution states that the goal is to identify if a person has engaged in "treason, bribery, or other high crimes and misdemeanors," the Constitution states.

According to Section 2 of Article I, the House of Representatives can charge a person with impeachment through a simple majority vote. The person will be impeached as long as at least half of the House members vote to impeach that individual.

The articles of impeachment will go to the United States Senate. The Senate will then review the evidence and hear from witnesses.

Senators subsequently vote to determine if the person is guilty or not guilty of the charges resulting in an impeachment.

Section 3 of Article I states that the United States Senate can convict the impeached person if two-thirds of the Senate members agree. The impeached person will be acquitted if the Senate cannot get enough votes.

An impeached official who is convicted is then removed from office and may also be disqualified from holding another office in the future. The process does not allow for an appeal.
When Has Impeachment Happened Before Trump?
There have been twenty-one instances where the House has approved articles of impeachment, but only eight have led to convictions. For example, in 1912, Third Circuit Court of Appeals Judge Robert Archibald was impeached for accepting illegal gifts from lawyers. He was convicted and removed from office a year later. He was also barred from holding future office.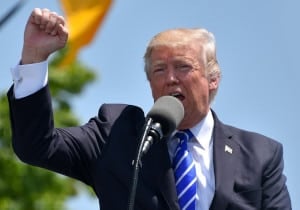 There were two instances where a President was impeached before Trump. Andrew Johnson was impeached in 1868 for violating a since-defunct law that says the President cannot remove executive officers without the Senate's approval. He was acquitted in a 35-19 vote, falling one vote short of the two-thirds majority.
The other impeachment of a President was in 1998 when Bill Clinton was impeached for perjury and obstruction of justice. The Senate was split nearly half-and-half on both counts.
Trump's First Impeachment
Donald J Trump's first impeachment began on December 18, 2019. The House investigated Trump's efforts to win reelection in 2020.
Trump had reportedly attempted to convince Ukraine and other countries to provide harmful information on Joe Biden, his eventual opponent in the 2020 election. President Trump was willing to offer hundreds of millions of dollars in military aid to Ukrainian President Volodymyr Zelenskyy in exchange for favors to tilt the 2020 election in his favor.
There were also concerns that Trump was engaging in obstruction of justice. Trump was accused of obstructing the House's investigation while also trying to fire Robert Mueller from his investigation of Russian influences in the 2016 election. These concerns were enough to prompt the House to vote to impeach Trump and attempt to get him removed from office.
Outcome of the vote

The House impeached Trump on two articles, first for abuse of power and second for obstruction of justice. The vote was on party lines, with Democrats and independent Michigan Representative Justin Amash voting to impeach Trump and Republicans voting against it.
Trump was acquitted of both of these charges following an impeachment trial on February 5, 2020. The vote on the first article for abuse of power went 48-52, with all Democrats, independents Bernie Sanders of Vermont and Angus King of Maine, and Utah Republican Mitt Romney voting to convict him. The 52 other Republicans besides Romney voted not guilty.
The vote for obstruction of justice went 47-53, with all 53 Republicans agreeing that Trump was not guilty.
Trump's Second Impeachment
While Donald Trump was acquitted and thus allowed to see out his term as President, he still lost to Joe Biden a few months later in the election. Trump would be impeached once more, though, right before he left office. On January 13, 2021, one week before his term would end, Trump was impeached on charges of inciting an insurrection.
A week earlier, on January 6, 2021, Congress counted the electoral votes in the last election to confirm President Biden. During a rally on the National Mall, Trump told thousands of supporters in attendance that Biden stole the election. He said that everyone should "fight like hell" to prevent President Biden from taking office in the White House.
Trump's supporters then stormed the Capitol building, interrupting the certification of electoral votes. There were concerns that these people would go so far as to attack various governmental figures they felt weren't loyal to Trump. One police officer died during the Capitol riot, and a few other officers died by suicide months after.
Starting the impeachment
The initial effort following the attack on Capitol Hill was to invoke the 25th Amendment, making Vice President Mike Pence the acting President for the last two weeks of Trump's term. There was also an attempt to invoke the 14th Amendment, which would bar someone who participates in an insurrection from being allowed to hold future office.
But efforts to enact the 14th Amendment went nowhere, and Pence refused to invoke the 25th Amendment. The House then initiated articles of impeachment for the second time.
The impeachment process would continue even after Trump's presidency ended. The main intention of the hearings was to determine if Trump should be eligible to run for office once more.
How did the vote go?
The House voted 232-197 to impeach Trump. Ten Republicans voted to impeach him, while four Republicans did not participate in the vote.
Trump was acquitted on a 57-43 vote in the Senate on February 13, 2021. All 48 Democrats and both independent Senators voted to convict him. Seven Republicans also found him guilty, including Romney, Maine's Susan Collins, North Carolina's Richard Burr, and Nebraska's Ben Sasse.