The death of Robert Kennedy shocked the world, particularly in the wake of the assassinations of President John F Kennedy in 1963 and Dr. Martin Luther King just two months prior. 
As expected, Senator Kennedy's funeral and procession to his final resting place attracted many mourners seeking to pay their respects. However, the odd thing about his burial was that it happened at night.
Night-time burials are rare for such high-profile funerals, so why was Bobby Kennedy buried at night?
The night-time burial of Robert Kennedy was an unusual and unplanned ceremony. The graveside service should have happened earlier in the evening but was delayed due to a series of unforeseen events following his death. These events led to last-minute alternations and a candlelight service.
The Assassination of Robert Kennedy
Robert Kennedy was assassinated at the Ambassador Hotel in Los Angeles at 12:50 am on June 5th, 1968, shortly after giving a victory speech in the California presidential primary elections.
A gunman, Sirhan Sirhan, shot Kennedy three times, wounding bystanders in the process.
Although Kennedy was quickly transferred to the Good Samaritan Hospital for treatment, his injuries were too severe. His campaign for the White House came to a tragic end, and he was pronounced dead at 1:44 am on June 6th, 1968.
Following his death, Senator Kennedy's body was taken to St Patrick's Cathedral in New York, where the public could come to pay their respects. There he lay in state until his funeral service at the same cathedral was held two days later.
Moving Kennedy's Body From New York to Washington
Robert Kennedy's coffin traveled by train to Washington from New York, where he was then to be taken to Arlington Cemetery in a funeral procession.
Usually, the journey between the two cities would have taken around four hours, getting them into Washington at around 5 pm. However, the number of mourners getting close to the tracks along the journey caused lengthy delays.
Fears for public safety were exacerbated when two people jumped onto the tracks in New Jersey and were killed by a train heading in the other direction. 
The safest thing to do was to slow the train down, but this meant the journey took around twice as long as it should have. The train finally arrived at Union Station just after 9 pm.
These delays led to the coffin not reaching the graveside until much later than planned, leading to alterations in the ceremony and a unique night-time service.
Final Journey From Union Station to Arlington
The final stage of the journey was to get the coffin to its last resting place in Arlington Cemetery. It was already getting late by this point, but the ceremonial proceedings were far from over.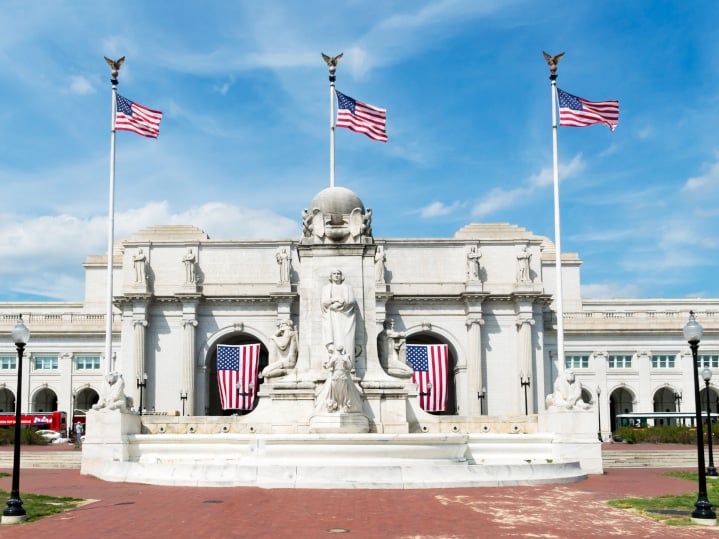 The procession stopped at the Lincoln Memorial, where the United States Marine Corps Band played "The Battle Hymn of the Republic."
When the motorcade finally arrived at Arlington, it was 10:24 pm. The burial ceremony, due to begin at 5:30 pm, actually began at 10:30 pm in the dark.
A Short But Poignant Burial
Although this was not part of the original plan, organizers quickly adapted and handed out candles to mourners. The candlelight helped illuminate the graveside and mourners in a beautiful display. 
Among the mourners was the family of Senator Kennedy, who, along with astronaut John Glenn, took part in the ceremony with the flag draped over Bobby Kennedy's coffin.
Another last-minute change to the ceremony was the cardinal conducting it. The original choice, Cardinal Richard Cushing of Boston, became ill during the journey to Washington. Cardinal Patrick O'Boyle, Roman Catholic Archbishop of Washington DC, replaced him.
After these changes and the long delays in this complex journey to Arlington, the graveside burial ceremony lasted just 15 minutes. It may have always been due to be this long or was perhaps shortened to accommodate the mourners present.
Is Bobby Kennedy the Only Person Buried in Arlington at Night?
No, he is not. Some claim that this night-time ceremony was the first and only example, and Arlington officials have claimed this too. However, other burials happened at night that went a little more under the radar.
Another Kennedy family member, Senator Ted Kennedy, was recently buried at night in 2009 after dying of a brain tumor. 
Was Robert Kennedy Always Going To Be Buried in Arlington?
Another interesting thing about this night-time burial in Arlington is that this wasn't where former United States Attorney General Robert Kennedy wanted to be buried. 
He had stated that he wished to be buried back home in Massachusetts on the family plot, where his father, Joseph P Kennedy, and mother, Rose Kennedy, were laid to rest. 
However, his wishes were ignored after his death as family members insisted on Arlington. This choice made sense politically and symbolically, given that John Kennedy was buried there just a few years prior. 
There are several Kennedy family members buried in that area. The final burial site lies just 50ft from the terrace at President Kennedy's grave site.
The Symbolic Nature of RFK's Burial
We could argue that none of the delays and issues that arose would have occurred had Robert Francis Kennedy been buried at his chosen site in Massachusetts. 
However, this also wouldn't have allowed for the high-profile ceremonial motorcade through Washington nor the chance for so many people to watch the train pass by and pay their respects.
The final candle-lit ceremony was a unique and moving one that allowed mourners the chance to say goodbye to a beloved politician. 
Moreover, the move to Arlington made sense for the family legacy. 
Whether we see any more night-time Arlington burials depends on the scale and organization of any high-profile funerals in the future.