James Madison
One of the founding fathers and 4th president of the country, James Madison is hailed by many as the defacto "Father of the Constitution" thanks to his essential role in the drafting of the United States Constitution and Bill of Rights. After its ratification, Madison served as a close confidant and advisor to the Washington presidency.
From 1789 to 1801, Madison served as a Congressman. From 1801 till 1809, he was appointed as the Secretary of State. From there, he then ran for and won the title of president of the United States.
While certainly the most famous of his clan, Madison wasn't a solitary figure. He had an entire family that proved instrumental to his progression through politics and his meteoric rise into the presidency. This overview will go into his various family members to see who they are and their significance in his life and career.
Captain Isaac Madison (Madison's Great-Great-Grandfather)
Born in 1590 in London, England, Isaac Madison was the first of his family to migrate to America, settling in Virginia. He managed to acquire a sizeable piece of land throughout his time, where he lived as a planter with his family until he died in 1624.
Ambrose Madison (Madison's Grandfather)
Born in 1696, Ambrose Madison, the grandson of Isaac Madison and grandfather to James Madison, and his brother-in-law purchased a piece of land in the Piedmont of Virginia. In 1732, he and his family moved from their grandfather's original land to their new home, then known as Mount Pleasant.
Six months after moving to Mount Pleasant, Ambrose was poisoned, the culprits alleged to be three African American slaves. After his death, his wife, Frances, managed their estate, where she lived with their only son, James Madison, Sr.
James Madison Sr. ("Colonel Madison")
The father of James Madison Jr., Madison Sr., was born in 1723 and was also known as "Colonel Madison" later in his life. Colonel Madison was a tobacco planter, growing up on his estate with his mother after his father's death. He was a prominent and esteemed politician throughout Virginia and served as a colonel in the Revolutionary War.
Madison Sr. was a very wealthy landowner in his time, acquiring over 5,000 acres of land across multiple properties. In fact, at the time, Madison Sr. was the biggest landowner in the country. He passed in 1801 at the age of 77, the same year his son was appointed Secretary of State.
Dolley Madison (Madison's Wife)
While many people in the family of James Madison proved influential – some spanning several centuries – none proved more essential in his life than his wife, Dolley Madison. Born on May 20th, 1768, Dolley Todd Madison was noted as one of the first active First Ladies for the presidency.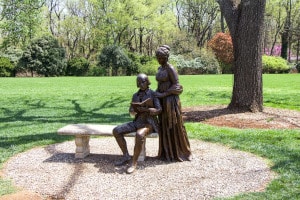 During her time as First Lady, between 1809 and 1817, Dolley would hold social functions, where she would bring together members of both political parties, essentially becoming the forerunner in bipartisan cooperation. While previously, bipartisan meets would be largely one-on-one affairs, often ending violently, Dolley worked to create an environment whereby members of either side could amicably network and socialize with one another free of danger.
Quaker Origins
Born in 1768, in Guilford County, North Carolina, Dolley Madison originally went by Dolley Payne. The fourth of eight children, Dolley and her family moved to Philadelphia in 1783 at the age of 15. Throughout her time in Philadelphia, she never received a formal education and, in 1790, was married to fellow Quaker, John Todd Jr.
During her first marriage to John Todd, the two lived with her husband's family in a small home where they later had two children, John and William Todd. In 1793, her youngest son, William, and her husband and his entire family died from yellow fever, leaving Dolley and her eldest son, John, as the only survivors.
Meeting James Madison
After the death of her husband in 1793, Dolley married James Madison a year later. At the time, Madison was little more than a wealthy planter and Congressman from Virginia and had not reached his later positions of power and prestige. Three years after their marriage, the couple moved to Madison's family plantation in Orange, Virginia, where Dolley cared for her mother-in-law.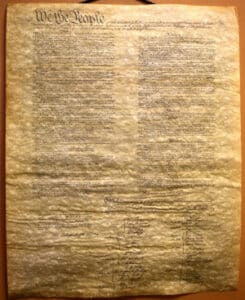 Acting First Lady
While she would master these traits while under her husband's presidency, Dolley first began acting as an unofficial First Lady between 1801 and 1809. She co-hosted events for President Thomas Jefferson. As Jefferson's wife had died years earlier, and both Madison and Jefferson were good friends, it was expected that Dolley would help host special events.
During this time, Dolley helped create incredibly upscale events that were instrumental in selling the refined nature of America to the Europeans abroad, ranging from visitors from London and Paris. She was so good at hosting these events that Jefferson relied almost exclusively on her, giving her as much decision-making power as possible.
Officially Titled First Lady
After her husband was elected president in 1808 and inaugurated in 1809, Dolley sponsored the first Inaugural Ball. She was also the first official First Lady to formally associate with a public charity project, sponsoring a home for orphaned girls throughout the DC area.
While very little of this is mentioned in the history books, Dolley was a skilled political mover, leveraging her position as the president's wife to form friendships and alliances with the wives of other politicians. This allowed her access to any information that may hurt her husband and a more significant influence on said politicians through their wives.
The Burning of Washington, 1814
Despite her many years of vital service to both Jefferson and Madison, her most memorable moment comes from her actions during the War of 1812. In 1814, two years after the war had been declared between the United States and England, British forces attacked the White House. While Madison and his cabinet all fled the city, Dolley alone stayed behind to help retrieve vital documents, important paintings, and various pieces of art and silver, the most important of which is a portrait of George Washington by Gilbert Stuart.
As the White House went through repairs, Dolley continued to entertain guests and hold to her First Lady duties while in her temporary quarters (today known as the Dumbarton House). This greatly improved the country's morale, as she showed America's strength even through those trying times.
Final Years
After Madison's final term as president, the two returned to their Virginia estate. There, Madison died in 1836, and Dolley returned to DC, where she would be given an honorary seat in Congress. She was also the first private citizen in the country to send a message by way of telegraph.
On July 12th, 1849, Dolley Madison passed at the age of 81 in DC. To this day, she is still highly regarded as the first real First Lady, to which all others, before and since, are compared.
Madison's Family Influence
James Madison Jr., while the Secretary of State and later president of the country, was not alone in his success, nor were his accomplishments thanks solely to his efforts. His father, grandfather, and great-great-grandfather all were instrumental in building him a financial base that, without which, none of his congressional or otherwise political endeavors would have ever been possible. Just as well, his wife played a crucial and essential role in him becoming the man that he was. She subtly worked behind the scenes to create a political environment that ensured his success into a second term.
By examining the family surrounding President James Madison, we can more fully appreciate his deeds in their fullest context with a more complete understanding.