Donald Trump's Children
Donald Trump has five children. He has been married three times, so some children are full siblings while others are half.
Donald Trump's first wife, Ivana Trump has three children with him. They are:
Donald Trump Jr. (born December 31, 1977)
Ivana Marie Trump (born October 30, 1981), better known as Ivanka Trump
Eric Trump (born January 6, 1984)
Donald Trump's second wife, Maria Maples has one child with him. His daughter Tiffany was born in October 13, 1993.
Donald Trump's third and current wife, Melania Trump has one son with him. He is called Barron and was born on March 20th, 2006.
Donald Trump is a family man
While marriages may not have worked out well for Trump, he has always been involved with his children.
He has encouraged them to be involved in his business endeavors, to pursue their interests, and several of them were part of his cabinet when he was President of the United States. He doesn't always see eye to eye with them but respects them as individuals.
Donald Trump Jr.
His oldest child has his namesake, Donald John Trump Jr. He was born December 31st, 1977. He was 13 years old when his parents were divorced.
Due to their bitterness towards each other, he didn't get to see his father for almost a year. He grew up loving the outdoors and still enjoys camping and hiking. Don Jr. is a prestigious businessman.
He is known for his compelling strategies and the ability to transform losing entities into moneymakers and is worth approximately $25m. He has written various business-related books. He is also known for his political stand on various topics. From time to time, he has been involved with television productions.
Ivanka Trump
Donald's oldest daughter, Ivanka Marie Trump, was born on October 30th, 1981. She was born and grew up in Manhattan.
While she was a great student, she felt like boarding school was a prison. It didn't give her the room she was looking for to grow or be creative.
She is beautiful, and her parents allowed her to model on the weekends and holiday breaks while in high school. She participated in several brand-name modeling events. She was on the cover of 17 magazine in 1997.
Ivanka completed her Bachelor's degree in economics at the University of Pennsylvania in 2004. She had her clothing line but shut it down because it was deemed unethical while she was working in the White House. The clothing was sold through upscale retailers such as Neiman Marcus. She is thought to have a net worth of approximately \$300m.
Ivanka married Jared Kushner in 2009. They have 3 children together. 
Ivanka's first Daughter,  Arabella Rose Kushner was born in July 2011.
Ivanka's first Son, Joseph Frederick Kushner was born in October 2013.
Ivanka's second Son,  Theodore James Kushner was born in March 2016.
Eric Trump
Donald Trump's third child arrived on January 6th, 1984. Eric Frederick Trump was a great student with a desire to learn. He was advanced for his age, so he took advanced courses in school. He graduated from Georgetown University with a degree in finance and business management.
He loves working with his hands. He would often take care of lawns or repairs on his father's properties because he enjoyed the tasks. Today, Eric wears many hats. He is a great businessman and often does dealings with Donald Jr. He is an activist and public speaker. He has been involved with various reality TV productions.
Roles During and After the Presidential Campaign
All three of the oldest Trump children were Executive Vice Presidents for the Trump Organization. When Trump ran for President, the Trump family was part of the campaign process. They all toured and spoke on his behalf to help spread his platform and encourage people to vote for him.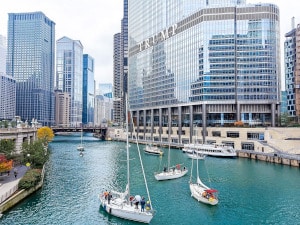 Once Trump was in office, they became part of his presidential transition team. With Trump in the White House, he needed his children to step up and help with his business affairs too. Ivanka took on roles for him under the Presidency. So did her husband, Jared Kushner. Donald Jr. and Eric took care of real estate transactions for the Trump business.
Tiffany Trump
Tiffany Ariana Trump was born on October 13th, 1993. She was only two years old when her parents separated, and she moved to California with her mom. Tiffany got to see her dad often. He made sure she was well cared for when he couldn't be around due to his work endeavors.
She completed her degree in sociology from the University of Pennsylvania. Due to her studies, she wasn't actively involved in his campaign for President. She did support her father and her family in their efforts.
Tiffany Trump has a net worth of approximately $25m.
Barron Trump
The youngest child of Donald Trump was born March 20th, 2006, as Barron William Trump. He has attended various events with his parents. While they try to keep him out of the spotlight, they also want him to be involved in the programs and efforts they promote. 
A decision was made for Barron and his mom not to move into the White House when President Trump took office. While many frowned upon this decision, they felt it was important for him to complete the school year where he was currently enrolled.
He is an avid soccer player and has caught the attention of many scouts for his skills. He has been involved with various soccer associations as a key player over the years.