Last modified: September 26, 2023
Although Trump is a very controversial figure, there is a high chance that this is a case of not judging a book by its cover! Trump is educated and intelligent.
Donald Trump – The College Student
Donald Trump is one of the most polarizing political figures in American history, serving as the 45th president of the United States.
One of the many controversies surrounding his presidential run was his collegiate record, an issue exacerbated by his frequent attacks on the academic achievements of other political figures.
Donald Trump's Academic Attacks on Others
During the 2016 presidential election campaign, Trump criticized President Barack Obama's supposed poor collegiate record. He openly questioned how he could have attended both Columbia University and Harvard Law School.
While President Donald Trump had a history of criticizing political leaders for their poor educational performances, in this case, he overlooked the fact that Barack Obama had graduated Magne Cum Laude from Harvard Law School.

Trump University
Adding further irony to his statements was the controversy surrounding Trump University, a failed real estate educational company owned by Trump that was the subject of many lawsuits and investigations.

Trump himself claimed to have been an excellent student, surpassing many of his political opponents, prompting many critics to investigate his academic record. 
Where did Trump go to College?
Fordham University
Wharton School of Business
Fordham University 
Trump initially enrolled at Fordham University in 1964, pursuing a Bachelor of Science economics degree with a concentration in real estate.
Located in New York City, Fordham University is a private Catholic school with a rich history dating back to 1841, making it the third-oldest university in New York State.
In addition to Trump, the university possesses a long list of famous alumni, including Denzel Washington, Alan Alda, David Copperfield, Geraldine Ferraro, and Vin Scully.
Trump's Academic Performance at Fordham
Very little about Trump's academic performance at Fordham is known, although most anecdotal evidence indicates that he was a good, not great, student.
He generally kept to himself and didn't have many close friends, focusing primarily on his studies.
His goal to dominate the real estate market in New York City after college was well known by his classmates, foreshadowing the larger-than-life impact he would soon have on business and society.
Trump's Non-Academic Achievements at Fordham
Those who interacted with Trump during his college days at Fordham generally remember him positively, viewing him as an individual with a good-natured personality.
Many of his extracurricular activities revolved around sports, including a successful stint on the school's squash team during his freshman year.
He also successfully played intramural football throughout his time at Fordham but never played on the official school team.
Wharton School of Business – University of Pennsylvania 
After attending Fordham University, Trump transferred to the Wharton School of Business at the University of Pennsylvania, one of the most prestigious universities in the world.
Wharton Business School Alumni
With an impressive array of distinguished individuals among its alumni, including Elon Musk, Warren Buffet, and William Henry Harrison, the University of Pennsylvania helped provide Trump with the foundation needed to excel in the real estate world.
Following in Trump's footsteps, three of his children, Donald Trump Jr., Ivanka Trump, and Tiffany Trump, would eventually attend the school.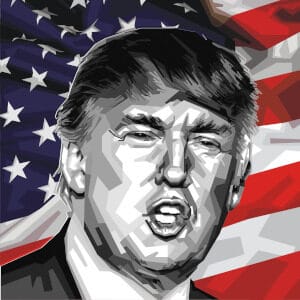 Trump's Achievements at Wharton School of Business
As with his college days at Fordham, there is not much information about Trump's academic records or achievements at the Wharton School of Business.
Although he reportedly transferred to this school for the greater competition and higher academic standards of the Ivy League, he once again distinguished himself as a good, but not great, student.
The most concrete empirical evidence indicating his academic achievements was that he graduated without honors, indicating his GPA was likely 3.40 or lower.
Extracurricular Activities
Unlike his days at Fordham, there is no record that Trump participated in any extracurricular activities, including campus societies or political groups.
Instead, because of the rigorous academic standards of the Ivy League, he most likely relegated himself exclusively to his studies and had a minimal social life.
Graduate Studies
After graduating from the University of Pennsylvania in 1968, Trump ended his formal education, choosing to forgo any MBA program offered by the Wharton School of Business or any other college.

Although this may be surprising to some, it is important to note that at the time, MBA programs were relatively new to the higher education scene. The first MBA program in the United States was offered in 1940.
It is most likely that Trump did not feel an MBA was necessary to excel at real estate and wanted to jumpstart his career as soon as possible.